Daily campaign in June to introduce Spinister.
| Event Name | Daily Campaign July |
| --- | --- |
| Period | 2015, July |
Map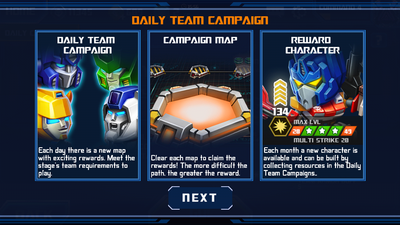 For a whole month there is a daily event specific for some requirement to get some cores and get a specific bot. Every 24 hours, a map with specific Team Requirement have to battle each node in a map to get a total 9 specific daily Cores.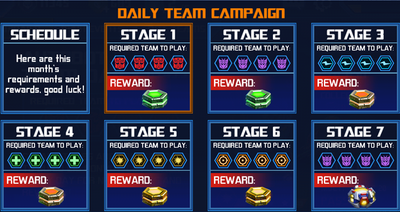 For every map, there will be 3 paths. In the end of each path you will receive the daily core in each path :
Reward
Promotions
When the daily campaign requirement on Scout, Support, Soldier, or Hunter, there will be a new related space bridge for each respective class.
There are 3 steps in this Daily Campaign Drops, with increasing cost from 150 Golds, 350 Gold, 600 Gold.
Ad blocker interference detected!
Wikia is a free-to-use site that makes money from advertising. We have a modified experience for viewers using ad blockers

Wikia is not accessible if you've made further modifications. Remove the custom ad blocker rule(s) and the page will load as expected.